This page is a summary of some of the pages in Swedish. Not all pages are summarized here. A Google Translation function will be implemented in all pages at the website in the near future.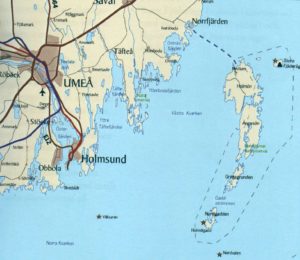 Holmön islands are located in North Quarken between the Bothnic Gulf and the Bothnic Sea about 10 km off the coast outside of Umeå. Holmön archipelago comprise of more than 1 000 islands and skerries. There are five major islands Holmön, where the village is, Ängesön, a long and narrow island located in parallel and east of Holmön. The strait between the islands foms a lagoon, Jäbäcksundet. South of Ängesön there are two larger islands, Grossgrundet and Holmöngadd. North east of Holmön, Stora Fjäderägg is located, with the lighthouse where there is a Youth hostel and a bird station for ringing migrating birds. The station is open in spring and autumn.
The purpose of this website, Holmön Portal, is to provide islanders and other with interest from Holmön with local news and information regarding recent events and incidents as well as activities and events arranged by organizations on Holmön.
Information for Swedish speaking tourist and visitors can be found at www.visitholmon.com.
How to get here
To Holmön runs the ferry Helena Elisabeth, also called Holmöfärjan. The ferry line is operated by Trafikverkets Färjerederi on commission from Vägverketregion Nord.
The ferry goes between Byviken on Holmön and Norrfjärden on the main land. Norrfjärden is situated approx 30 km NE of Umeå. There are five daily tours during summer time and four during the rest of the year. A timetable for the ferry can be found below. The ferry is free of charge.
When the sea freeze during the winter, the traffic is maintained with a hovercraft for passagers and a snowmobile train with sledges for cargo and goods. From the winter 2010 Vägverket is responsible for maintaining the traffic. The hovercarft takes 12 passangers and it runs on the ferry schedule. There will be extra tours if needed.
Helicopter may be used when the ice is not secure to travel on. See information here on Holmön Portal (in Swe).
Holmöns Lanthandel
The village country store is situated in the Byviken area about 100 m from the ferry jetty. This shop is a combined country store, petrol station, post office, Bank, Bottle shop representative, Pharmacy representative and small library. Here you can find all necessary foodstuff and other things you may need for your stay on Holmön. Tel +4690 55170. [More info (in Swe)]
Restaurants and eating places
Restaurang Novas Inn
Novas Inn is situated close to the quays in Byviken (where the ferry arrives). Here you cab sit with magnificent view over the harbor. Here you can eat meals made form local raw materials. On the menu you will find fish and other specialities from this original archipelago environment.
Open 2020: June – August every day. Contact us on telephone +4690-2066480 or via our Facebook.
Lodging
Holmögården,
Youth Hostel type of lodging with close to 20 beds. Can only be rented as the whole buillding and only open summer time. Book via Hembygdsföreningen (in Swe).
Bergudden
Youth Hostel type of lodging with close to 30 beds open summer time. Book via their webplace www.berguddenfyr.se (in Swe).
Prästgården Holmön.
Old Vicar's place that is a newly renovated house with 24 beds in five rooms and a fully furnished kitchen. For questions contact Joar Sandström, tel. +4676-2515690 or Jorik Otterbjörk, tel. +4670-5560142. For bookning, maila info@prastgardenholmon.se or call Holmöns Lanthandel at +4690-55170. [Read more about Prästgården (in Swe)]
STF Youth Hostel Stora Fjäderäggs fyrplats.
Open from June to mid-September. Bookning at telephone 070-6917220. More information at http://www.storafjaderagg.se
Marlens lodging.
Small cottages with well equipped kitchen with refridgerator and freezer, stove with oven, microwave, water heater, coffee brewer. TV. WC and shower. Patio with outdoor furniture. For booking call Marlen, telephone +4670-2927100.
Kaplangården
This place has 6 room for rent of which 4 rooms are 4-bed rooms with shower and toilet and two double rooms, sharing shower and toilet. There is a fully equipped kitchen and an out-door place for eating with a BBQ. Book at +4670-2799757. Can be booked all year.
Kaplangården, Holmö Byaväg 107.
Panget Logi
Apartment close to Byviken with sea view. The walking distance from the harbor is approx. 500 m. The appartment has 3 room s and kitchen with two double bed rooms. The place is equipped with WC/shower and a kitchenette with a fridge with a small freezing compartment, and a water cooker and a coffee brewer. There is also a living room with an eating table, sofa and a TV. There is also an outdoor place with garden furniture. Free wifi and bicycles is part of the rent. More info can be found at facebook.com/pangetlogi.
Thorbjörns Lodge
Renovated bakinghouse from late 1700 is open for rent to summer guests. The is place for up to four adults and two kids on a sleeping loft. Outdoor TC. Feel the history from gone times in this probable soldier lodge. Call +4670 5563540. Day or weekly lease.
Camping on Holmön
There is no organized camping site on Holmön. Wild camping is allowed on Holmön as long as you are not too close to houses. There are several nice places to camp. In the Byviken area there are special rules. It is NOT allowed to camp between the road to the Guest Marina and the water in Byviken, e g the beach or BBQ-areas. Suitable camping sites are out on Lillhälla and Baskäret (north and west of the harbor), at the side of Strandberget (south of the road to the Guset Marina). In Byviken-area it is close to Novas Inn (the restaurat at the harbor) and the service building at the Guest Marina with toilets and showers (automat for yellow 10 SEK coins). With bicycle you can go a bit further in on the island. At approx. 3 km distance from the harbor there is a nice campsite with a small beach. Its located at Trappsand on the east side of Trappudden. It is also possible to camp by the bridge to Ängesön (about 7 km from the harbor), at the south side of the birdge on Ängesön side. These are only some examples of campsites. There are many more suitable places to camp along the shores and walking tracks.
Sightseeing.
Tourist Information
Information for tourists can be found in the BoatMuseum. Tel +4690 55220. Open daily from mid-June to mid-August.
As visitor you can find more information at visitholmon.com.
Map
Maps can be obtained free at the Tourist Information, and Lanthandeln.
Bicycles
Bicycles can be rented at the Boat museeum.
The Boat museum
Holmöns boat museum is situated in Byviken. Tel +4690 55220. Open daily. Read more
The church
Holmön church lies in the northern part of the village.
Bergudden Fyr
Bergudden Lighthouse lies on the western side of Holmön approx 3 km from Byviken. Guided tours can, during summer time, be arranged at the TouristInformation.
Ödekyrkogård (Old cemetery).
Just below the road crossing "Bergudden Fyr" an old cemetery can be found. At the site there is also a replica (2 m high) of the church Helena Elisabeth, the first church on Holmön, which has been moved and re-erected at Gamlia museum area in Umeå.
Jebäckshamnen
Jebäcksundet quay lies at the widest part of the strait between Holmön and Ängesön. It has been a small fishing harbour with a stone quay and old boathouses. The harbour is now in poor condition and is only used for small leisure boats.
Stora Fjäderägg
North east of Holmön you fins Stora Fjäderäggs with a lighthouse, a STF Youth Hostel and an ornithology station. The island has a unique biotope with low juniper scrub and cobblestone areas and is an el Dorado for ornithologists. There are also old unique ancient remains, e.g., stone labyrinths and compass cards. Suitable for daily excursions in good weather.
Summer time it is possible to go with a daily boat to Fjäderägg and the Youth Hostel. It is a 5 km boat trip from Byviken, that takes about 20 min. Bokning
Damina is another operator that usually can arrange boat transports to Stora Fjäderägg. Here you can book your own trip at the time you prefer.
Wildlife sanctuary.
The eastern part of Holmön and the major part of Ängesön is a wildlife sanctuary. It is Sweden's largest archipelago sanctuary and was founded to preserve the unique archipelago forest biotope on the islands. Walking tracks and pick-nick grounds have been made to facilitate access to sanctuary.
Activities
Beach
Beaches can be found in Byviken, Trappsand on east side of Trappudden (approx 3 km from Byviken) and at the bridge to Ängesön in Sörsundet (approx 8 km south of Byviken). There is also a beach area south of Bergudden at Veaögern. In Byviken and Trappsand there is also BBQ-areas that ca be used, unless there is a general fire ban.
Fishing
Fishing with rod is free in the sea and lakes. Good spots for spin-fishing for Pike can be found on the shore of Jebäckssundet. At the bridge between Holmön and Ängesön, Perch can be fished with worm bait. In the big lakes, Västerfjärden and Sörfjärden, on Ängesön, both Perch and Pike will bite. Both lakes are close to the road. Bergudden Fyr, LillHällan and Trappudden are suitable places for fly-fishing for grayling and trout.
Mushrooms and berries.
In late summer and autumn there are lots of wild berries and mushrooms in the forests on the islands. Wild berries and mushrooms in the forest are free to pick. This also apply to the wildlife sanctuary on Holmön islands.
Other service
Recycling station and garbage handling
Read more (in Swe)
Showers/Laundry
In the service building at the Guest Marina at the east side of Byviken there are showers and a laundry. Use 10-SEK coins for hot water in the showers and for the laundry machine.
Damina AB
Damina AB offers boat transports and outdoor activities, seal watching, Holmön Grand Tour. Damina also have Toras Beefarm and sell honey at Holmöns Lanthandel (the shop). Read more at Damina AB website.
Ö-miljö.
Åsa Engman operates the municipal scavenging and sewer handling in combination with a village compost facility to obtain a good ecological system for waste handling. Tel +4690 55130.
Livestock farm.
Susanne och Peter Tornberg runs a farm with cows and sheeps for meat production.
Tel +4690 55188
Tegströms gräv.
Can help you with excavation work. Contact Bert Tegström, tel 070-6509750.
Holmöns Snickeri AB
Holmöns Carpentry undertake various building work, renovations and new constructions and also work with wooden boats. The company also operates a STF Youth Hostel on Stora Fjäderägg. Summer time, they also run daily boat tours Holmön – Stora Fjäderägg for guests to the Youth Hostel. This latter activities are active during June to September. Bookning and contact: phone 070-6917220 or e-mail logi@storafjaderagg.se. More information about the hostel and the boat tours at www.storafjaderagg.se
Holmöservice
A one-man company that do all kinds of service- and maintenace work. Contact Kent Stecksén 070-5975002.